Housing for Justin Is Instrumental to Personal Growth
by IAN NEVAREZ
"Justin has come a long way since moving into HOPE housing and receiving supported living services," says Harbor Regional Center (HRC) Client Services Manager Mia Gurri. "He has really blossomed." He now has a job and consistently completes his personal chores of laundry, washing dishes, shopping for food, and cooking meals.
"Beyond these acts of daily living," Mia continues, "what is most impressive is that he has also come out of his shell when interacting with other people." This is a huge step forward for Justin. According to those close to him, this was not always the case. In his teenage years, he was actually considered extremely shy.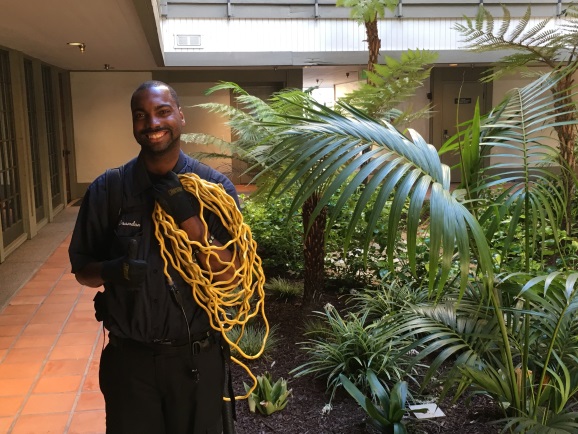 From Foster Care to HOPE, Brandon Continues to Follow
His Plan for Success
After graduating from high school in Cerritos, Justin enrolled in the College-to-Career program, a joint venture of HRC, California MENTOR, Long Beach City College (LBCC), and HOPE that provides dorm-like housing and academic guidance for students with developmental disabilities attending LBCC.
Roxanne Carter, Area Director with California MENTOR, believes that this opportunity to live and socialize with other students in the program was just what he needed. "You will find that after going through the program he is now very self-reliant and a strong advocate for himself."
Although there was improvement made in his socializing during his years in the C2C program, staff confirm that at times Justin was still quite shy and reserved around his peers. After graduation, Justin took his next step forward by moving to where he lives today, one of HOPE's Independent Living housing locations in Norwalk. He shares a three bedroom home with two housemates, each having their own room, but sharing common space like the living room, kitchen, restroom, and yards.
Ashley Rello, Program Director with California Mentor SLS, sees huge growth since Justin moved into his current independent living environment. "He has become much more social while living with these two other guys," she says. "I think it has given him another opportunity, like the College to Career program, to continue learning how to be a part of a group and get along with other people that aren't necessarily family." Ashley has seen a noticeable decrease in his skepticism of people when he first meets them. He is more open to getting to know them and share more about himself.
Housing empowered Justin to live his life independently and thus take risks that he would not be able to make without a stable home. Ashley adds to this point, "A big thing for him this last year was that he made the decision to change his job site. He wanted to work at Universal Studios. This was a major milestone in his confidence. He made the decision and went through the hiring process by himself." Justin followed his dream, accomplished his goal, and now he is working where he wants and loving it.
Unfortunately, for many low-income people with developmental disabilities, affording rent in a safe, decent neighborhood is not an option. "If not for HOPE's housing, Justin wouldn't be where he is today," Ashley continues. "Many of our other clients are having to pay outrageous amounts of rent."
The reality of a person spending 50%, 60%, 70%, or more of their income on rent has the very real effect of limiting their aspirations. HOPE is proud that our housing, and the opportunities that come with its stability and affordability for its residents, has proven to foster personal growth.
Justin is just one example of how HOPE housing for our residents can lead to dramatic improvements in quality of life for our residents. At 26 years old, Justin is now thriving as he lives with increased independence, maintains the employment of his choice, and each day opens up more and more to the world around him.
If you are interested in supporting the creation of future HOPE homes, please consider making a donation here. Your gift will have a very meaningful impact in the life of those we serve.